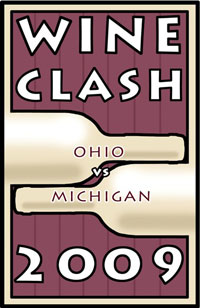 (Columbus, Ohio – November 5, 2009)
Ahead of the legendary gridiron clash, wine lovers in Michigan and Ohio assembled to determine whose wines would triumph in a head-to-head clash. Eleven of the top wines were chosen from each state and judged in both Columbus and Ann Arbor by panels of wine lovers, writers and professionals.
The State of Michigan reigned supreme in 2009 with the overall winning wine (Longview Winter Ice 2007) and four of the top five ranked wines. In order of ranking with number of first place votes:
Longview Winter Ice 2007 (Dessert Wine) Leelanau Peninsula MI (4)
2 Lads Reserve Cabernet Franc 2007 (Dry Red) Old Mission Peninsula MI (2)
Kinkead Ridge Cabernet Franc 2007 (Dry Red) Ohio River Valley OH (2)
Gill's Pier Cabernet Franc – Merlot 2007 (Dry Red) Leelanau Peninsula MI 2007 (1)
Wyncroft Avonlea Pinot Noir 2007 (Dry Red) Lake Michigan Shore MI (1)
For further information, please visit http://www.ohiovsmichiganwineclash.com.